New Testament Christian Academy STOPs COVID Learning Loss in its Tracks
When Wisconsin's schools were first ordered to shut down to prevent the spread of COVID-19, New Testament Christian Academy Director Renee Johnson says "We prayed." Little did they know how incredibly their prayers would be answered.
New Testament Christian Academy is a private K4-8 school of 157 students with a campus on Bradley Road in Milwaukee. 91.7% of their students attend the Academy through the Parental Choice Program, and 50.3% of their students are considered "economically disadvantaged" by the state. The Academy delivers rigorous, traditional instruction with focuses on critical thinking and STEM fields to prepare students for their future careers.
NTCA delivers an education that their kids can't do without. For many kids with limited financial means, a quality education is the key to a brighter future filled with more opportunities. Academic success can put many students on a path to a degree or apprenticeship, which opens doors to careers that can provide for themselves and their family. Without, many low-income families remain that way for generations. Their education, then, can't be taken lightly, because it can so powerfully uplift their and their families' lives.
So, when the state ordered all Wisconsin schools closed to in-person instruction to mitigate the spread of the coronavirus, the very futures of our state's low-income students came under threat.
Amazingly, NTCA didn't let the statewide closures catch them by surprise. They were not going jeopardize the gains they had made with their students or their students' futures.
"Our school began to prepare for a possible shutdown in February under the direction of our assistant pastor," Director Johnson says.
The Academy had prepared to meet the specific needs of their low-income students. They were aware that they could not facilitate learning over laptops or iPads, because not every child had one or the means to buy one. As a small private institution, NTCA also did not receive the same government funding as the public schools to provide laptops or iPads to all their students. NTCA had to find a way to educate virtually or risk a year of learning loss for many of their students.
By the time the state had closed their doors in May, NTCA's curriculum director, Jennifer Zanger, had developed an innovative plan that addressed those tech challenges.
"The Lord blessed our curriculum director with the idea of using educational software that was accessible via cell phones," Johnson recalls. While not every student at the Academy could afford a laptop or an iPad, every student had a smart phone.
The Academy first used the model to focus on English Language Arts and math to prevent core learning loss. They offered live instruction, self-guided instruction, and recordings of live instruction for students and families whose schedules didn't allow them to receive instruction live.
"It was amazing to see how the Lord had prepared us just in time to implement our remote learning plans!" Johnson says.
The results of NTCA's virtual model were profound. For starters, their students were accounted for: nearly all of their students took their required state standardized Forward Exam test in 2021.
Their model also yielded exciting results from the state report card. In 2021, Wisconsin's Department of Public Instruction (DPI) measured the "target group outcomes" of schools, which gives a score to the achievement and attendance of the students that are struggling the most academically at each school. The state report card showed that NTCA's lowest-scoring students in the 2020-21 school year advanced better than 90.2% of other students in the state.
Amazingly, even during a pandemic, the Academy also managed to majorly boost their students' reading abilities and ensure that they didn't slip too far behind in math. After over a year of pandemic education, NTCA's reading proficiency jumped, from 21.7% proficient in 2019 to 35.8% in 2021. Students' math proficiency dipped by only one percentage point, down from 15.9% in 2019 to 14.9% today.
This is a big accomplishment that not every Wisconsin school can boast. Compare NTCA to the neighboring Milwaukee Public School District (MPS), where over 50% of the district's students did not take their standardized tests in 2021 at all. Their test scores are incomparable to a school like NTCA, where nearly all of their students were present for their state standardized testing. The gap signals that over 50% of MPS' students may be disengaged with their education, despite MPS receiving $770 million in direct federal COVID-19 relief to address the same educational challenges that NTCA overcame with far less funding.
NTCA's model was a clear success. An award-winning success, in fact.
In 2021, the Center for Education Reform in partnership with Forbes announced a competition, the STOP Award. The award would deliver a $1 million grand prize to a school that delivered "Sustainable, Transformational, Outstanding, Permissionless Education" to their students when COVID-19 closures stood in the way.
NTCA Director Johnson says that she learned about the STOP Award from School Choice Wisconsin's weekly "Get Educated Now" newsletter for private school leaders. She entered her school into the contest for their virtual model, which won them a spot among 20 national semi-finalists for the $1 million grand prize.
Director Johnson says there were many odds against NTCA in the contest, yet the Academy stood out among hundreds of other contestants for their outstanding virtual learning model during the pandemic.
NTCA did not win the $1 million grand prize, but the Academy earned a $100,000 prize for reaching the semi-finals.
Johnson says she has ideas brewing for how to use their prize, but she has not yet settled on what she will use NTCA's award money for.
The work of those leading NTCA has changed and continues to change so many of their students' lives. As a result of NTCA's rigorous, classical program, most of their students have gone on to attend college prep high schools, receive college scholarships, and establish careers in the STEM field.
The City of Milwaukee is better off because NTCA poured resources into equipping their K-8 students with what they need to be talented members of society. Now, because of NTCA's innovative problem-solving and their cell phone education model during the pandemic, 157 of their kids didn't have to forego their academic success or put their future prosperity on hold, like thousands of other students across the state had to do because of pandemic shutdowns.
School Choice Wisconsin congratulates the Academy and their team for making it to the STOP Award semi-finals. We also commend the Academy for proving that schools can still change their students' lives in uncertain times, even with limited resources. We thank them for being a creative inspiration to all of Wisconsin and for enabling their students to keep pursuing their success when they needed it the most.
---
This story appears as part of the RISE Series, Recognizing Inspiring Schools and Educators. RISE is a School Choice Wisconsin publication.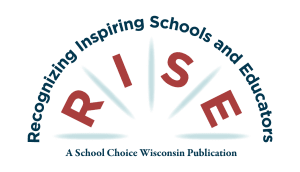 Do you know of an educator or a school that did outstanding work to educate students during the pandemic? Send their story to us for a chance to feature them in our next issue of the RISE Series, where we Recognize Inspiring Schools and Educators. Stories may be submitted to our writing team at [email protected] or over the phone at 414-319-9160. We may follow-up with a request for an interview.