Accountability in Action-August 2017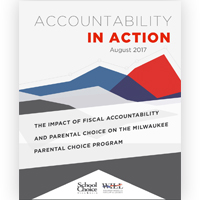 In this report, School Choice Wisconsin and the Wisconsin Institute for Law & Liberty explore the impact of fiscal accountability and parental choice on the Milwaukee Parental Choice Program.
"The debate over private school vouchers has shifted away from their mere existence towards whether – and how – accountability provisions should impact the ability of private schools to participate in the program. The education community is divided over this question. Some argue that test-based accountability should sanction poor-performing schools of all types, others argue that parental school choice, fiscal, and market forces are the strongest forms of accountability and are the measures that should be utilized."
This study reviews the extent and impact of accountability regulations affecting the Milwaukee Parental Choice Program (MPCP) and analyzes the role of parental accountability.  Download and read Accountability In Action.