Celebrating Cultures, Connecting a Community at St. Thomas More Catholic School
"It was challenging for quite a while."
As in every other school, Green Bay's St. Thomas More Catholic School met a new set of challenges when the coronavirus spread to their area. "The staff really came together and did everything they could" to serve the kids, says Principal Jamie Froh Tyrrell, who joined the team in July of 2020. "They really tried." But STM's efforts were being roadblocked by a critical missing piece: the school didn't know where many of their students and families were.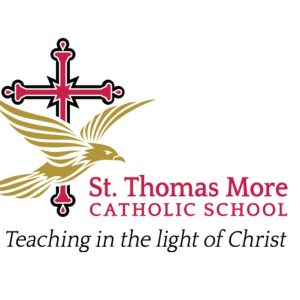 STM currently educates 172 3k-8th grade students, 90% of whom are enrolled through the Wisconsin Parental Choice Program. 95% of these students identify as Hispanic, most are Catholic, and many students primarily speak Spanish at home. The kids' families are "very transient in many ways," says Principal Froh Tyrrell, "moving houses, switching phone numbers." Many of these families also had a lack of experience with technology, some without any working devices at home.
COVID-19 measures were changing almost daily at the start of the pandemic, and without robust access to technology, plus language barriers between families and the school, it was challenging to track families' movement and ensure communications were reaching them. These issues also created barriers to educating according to the required model by STM's school network, GRACE Schools, where parents and teachers are in a close partnership to educate their kids.
The lack of information also stood in the way the principal and her staff's greater goal. When STM welcomed Froh Tyrrell to begin her very first principal role, she wanted to create a school environment where her unique Hispanic population knew that their heritage, language, and Catholic culture is welcomed and celebrated. But without accurate records on families, connecting and welcoming everyone back for in-person education was challenging.
Solving these problems during a typical school year would be difficult. Solving them during a pandemic upped the ante. For Froh Tyrrell to solve them as a new principal, fresh on the team, made the task daunting.
None of that stopped Froh Tyrrell, nor her school.
Froh Tyrrell started tackling the issue by restructuring her leadership team. She hired Alejandra Beales from the school's tech department to be her Family Liaison. As a fellow GRACE Schools parent, with tech savviness, a Hispanic background, and expertise in professional Spanish, Beales was made for the job. She met with STM families one-on-one to understand how to meet their needs. For many, she was their guide as they learned how to use their technology and set up Gmail accounts where the families can receive school emails. She also distributed STM technology, through the GRACE Schools one-on-one computer initiative, to ensure all families had access to the computers they needed at home.
As STM updated their family records, they ramped up communication with families using Class Dojo. The app can take messages from the school in English and translate them for Spanish-speaking families to read, and vice versa. With this app at STM's disposal, language differences didn't have to be a barrier to communicating with their families.
Families got connected and parent engagement soon blew "through the roof," Principal Froh Tyrrell says.
On December 23, 2021, parents and kids organized a Posada fundraiser as a means to build community and honor the school's faith mission. Kids ran much of the program and sold food that the families cooked. Tons of families turned out for the event – standing room only! The event collected nearly $3,000 to aid in STM's fundraising efforts.
"From a school that didn't even have phone numbers and addresses to connect with our families, to having this giant event that families helped organize and arrange and attend, that just kinda goes to show where we've come over the last year and a half," Froh Tyrrell describes, "even during the pandemic!"
After all the incredible progress that Principal Froh Tyrrell and her team have achieved during a global pandemic, STM's transformation is still in motion.
Starting in the 2021 school year, St. Thomas More began teaching all 3k-1st grade classes half in English, half in Spanish, completely bilingual. Froh Tyrrell's long-term goal is for every class at every grade level to be totally bilingual, so all her students can enter high school with bilingual abilities.
Principal Froh Tyrrell says a bilingual environment is crucial for the academic success of her Spanish-speaking students, because a bilingual education "really helps kids learn those deep foundational academic skills in both languages early on." She says a bilingual environment can also empower students to see their bilingual abilities as an asset, not a deficit, to their learning, and that is key to helping STM's Hispanic community feel welcome at the school.
"I want this school to be a place for Hispanic families to come to feel accepted and appreciated, celebrated," Froh Tyrrell says. "They can be who they are here… And any barrier that comes, we'll fight it, we'll figure a way around it, we'll jump over it, we'll jump under it, we'll trudge through it."
This is the incredible story of St. Thomas More School in Green Bay.
The principal doesn't take credit for her school's radical transformation over the past two years: she gives that credit to her team. "When someone says to me, like, 'oh, you're doing great work,' my response is always like 'because I have a great team.' It's not me, it's my team."
She gives great credit to the two Latina women she put on her leadership team. She created her team to serve STM's Hispanic population, but also to teach her how to serve the school better. "I get to be the leader, but I lead by following, too. It's kind of like a servant leader. Teach me."
St. Thomas More School currently educates 172 students but has the capacity for 225.  Because of their tremendous successes and humble work in serving their unique community, School Choice Wisconsin looks forward to seeing their enrollment grow.
_
St. Thomas More Catholic School has done some outstanding work to educate their students through the COVID-19 pandemic, in addition to all the work described above. We will feature the school and their GRACE Schools network in another upcoming piece. To stay up to date on all of our stories about Wisconsin's many amazing choice schools, follow School Choice Wisconsin on Facebook, Twitter, Instagram, and LinkedIn.
---
This story appears as part of the RISE Series, Recognizing Inspiring Schools and Educators. RISE is a School Choice Wisconsin publication.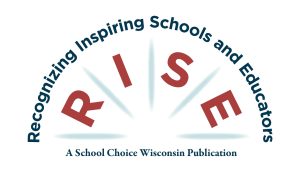 Do you know of an educator or a school that did outstanding work to educate students during the pandemic? Send their story to us for a chance to feature them in our next issue of the RISE Series, where we Recognize Inspiring Schools and Educators. Stories may be submitted to our writing team at [email protected] or over the phone at 414-319-9160. We may follow-up with a request for an interview.