School leader to state: Give us more enrollment periods
♦ Life Happens: A ChoiceWords series ♦
The state needs to add additional enrollment periods for the Wisconsin Parental Choice Program. The state should also end the program's grade-level entry points, which can prevent families from accessing the program for years. This is the second installment in a periodic ChoiceWords series.
More enrollment periods, please. That's what one new school leader would like to see in the statewide school choice program.
Currently the Wisconsin Parental Choice Program has one annual period when parents can enroll their kids, which goes from February through mid-April (see info from the Department of Public Instruction here). The Milwaukee choice program, meanwhile, has application periods open nearly year-round, while the Racine program has periods running from February to mid-September.
The single enrollment period troubles Justin Denney, head of school at Kenosha Christian Academy, a new private school in the choice program that launched this school year in Kenosha's Uptown neighborhood. The school is pre-K through third grade for the first year with plans to grow one grade a year to grade 12.
"The real challenges that are adversely affecting our ability to accomplish our mission and serve these families would revolve around application periods. Right now, that's the big thing for us," Denney said.
"What we're trying to do at the school is to reach a lot of families who are low income. And oftentimes that means that the challenges that they're going through mean they're not thinking far out ahead of time; they're focused on what's going on right then."
The single application window means missed opportunities for the families and the school. "We've talked to families or have some coming to the school who aren't in the choice program this year, but who want to be or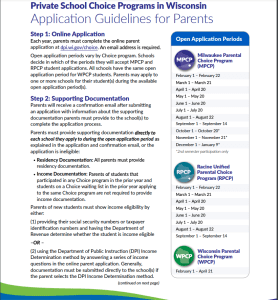 wanted to be, but didn't because they missed the deadline," Denney says.
Triumph over denial
Kenosha Christian's launch into the Wisconsin Parental Choice Program came perilously close to not happening at all due to a red-tape denial from the state Department of Public Instruction. In late 2021, after submitting required financial documents to the DPI, the school got a note from the DPI saying it was denied entry into the program.
The reason? "Very, very small technicalities," on the paperwork, says Denney. "Out of the dozens and dozens of documents that we submitted, the DPI picked out a couple of really small details that didn't really affect the financial viability of the school and they denied us for those reasons." For example, KCA had provided a bank account summary instead of a bank statement because the school was so new it didn't yet have bank statements. The DPI rejected that. KCA contacted School Choice Wisconsin, which put KCA in touch with SCW partner Wisconsin Institute for Law and Liberty (WILL).
"State law doesn't require that participating private schools submit a specific type of paperwork from their bank," said Libby Sobic, director of education policy and attorney. "The law especially didn't give DPI the authority to prevent a school from participating for failing to meet the DPI's specifications for paperwork. This was an overreach by DPI," she said.
WILL attorneys put together an appeal to DPI that explained how the agency's determination was factually wrong, inconsistent with state law and an example of senseless bureaucratic red tape. A few days later, DPI reversed their decision and KCA was in.
Kenosha Christian Academy has around 60 students lined up for this year and is offering a classical educational model. "We want to build a school where we have long-term relationships with students and families," says Denney.
Parents and schools: Contact School Choice Wisconsin at 414-319-9160 or [email protected] with questions about school choice.
— School Choice Wisconsin