Hispanic Heritage Month Art Contest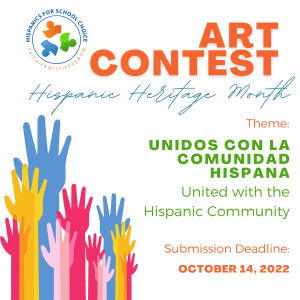 All choice school students are invited to participate in our annual art contest in celebration of Hispanic Heritage Month. This year's theme is United with the Hispanic Community.
There will be one grand prize winner per category:
• K-2 = $50
• Grades 3-5 = $100
• Grades 6-8 = $150
• Grades 9-12 = $200
The submission deadline is October 14, 2022. Winners will be announced as early as November 2, 2023. All decisions are final. 
Contest Rules:
• Open to ALL choice participant schools
• One entry per student in grades K-12
• Original art work must be mailed or delivered to the address below no later than October 14, 2022.
Download the art contest entry form.