Nicole at Shoreland Lutheran High School
Perhaps Nicole Romero's greatest attribute would be the one that makes it easy to overlook her. She is silently resolved.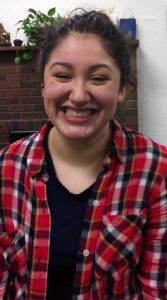 The junior at Shoreland Lutheran High School does what she is supposed to do. She works hard, she encourages others through her actions rather than words and is a relatively quiet teenager.
For those reasons, teacher Matthew Grow hardly knew the girl who had done so well in his social studies class. Then, he became her soccer coach, and the quiet but strong demeanor this student demonstrated made it impossible not to notice her.
"It was during her time at practices and at games when I could see her leadership shine through," says Grow. "She leads by example, by working hard and encouraging teammates. She lifts others up and supports them when they need it.
"Grow says that Nicole has another wonderful attribute, one that doesn't have anything to do with academics. "She makes an amazing friend to those around her," he says. "As a father of two daughters, I would point to Nicole as an excellent role model in how to act in the classroom, the hallways and on the soccer field.
"Nothing makes Nicole's mother, Teresa, and stepfather, Reyes, prouder than these kind of accolades from her teachers. They would not have had the possibility to send Nicole to Shoreland, a private Wisconsin Evangelical Lutheran School, without the aid of the Parental Private School Choice Program. In the second year of the voucher program, Nicole attended Our Lady of Grace Academy in Racine for eighth grade, and then began her high school years at Shoreland in Somers.
"The growth we see in her is wonderful," says Reyes. "She has become a very focused, independent person, and she just takes the initiative necessary to get what she wants. She just goes for it.
"Nicole, who is very modest, says much of the credit for the way her parents view her should go to Shoreland staff. "The teachers push you to try your best, and they make sure you're OK, that you are getting your homework done, that if you have poor grades you have the opportunity for extra credit and another opportunity to show them you know the material."
This has been the most challenging year for Nicole, who is taking her first Advanced Placement (AP) History course. She has her sights on taking two AP courses, Literature and Chemistry, next year, when she will be a senior.
As the end of her high school years creep closer, Nicole has pondered what she would like to do as an adult. Criminal justice work has intrigued her since middle school, although she is not certain what she would like to study within that field.
While her studies certainly have promoted her to some higher learning, she says that Shoreland's emphasis on faith has had one of the biggest effects on her. "I've grown more religiously, definitely. That doesn't mean I want to run off to become Lutheran," says, Nicole, a Catholic. "But, since I am in a religious school, I am reminded about God's Word every day. It has made me realize how I can affect others and their views, and should strive to be a better person in general."
In fact, helping others be better citizens is the major motivation for her thoughts about criminal justice work: "I like the idea of helping to straighten out foolish people and protecting the community," she says.
While she manages to keep about a 3.2 cumulative grade-point average, Nicole agrees with her mom, who would like to see more A's in future report cards. She knows it can be done, and she advises other students about how to achieve their goals at Shoreland.
"It takes dedication," she says. "You have to not be afraid to ask questions, because someone will answer them for you."
Mr. Grow is one of those teachers. While having him as a soccer coach has made him one of her favorite instructors, Nicole stresses that all of Shoreland's teachers are "pretty great.""They know kids, and how to handle them," she says.