Wisconsin Parental Choice Program
Wisconsin Parental Choice Program
| | |
| --- | --- |
| 314 Choice Schools | 17,079 Participating Students |
The Wisconsin Parental Choice Program (WPCP), a statewide private school voucher program, was enacted and launched in 2013. The program allows students whose families meet certain income qualifications and are not assigned to the Milwaukee Public Schools or Racine Unified school districts the ability to attend a participating private or religious school of their choice, tuition free.
WPCP Student Eligibility
The student must reside in Wisconsin and outside the city of Milwaukee and Racine Unified School District.
Family income must be at or below 220% of the federal poverty level.
The student must meet one of the following prior year attendance requirements: a public school student in grades K4-12; a student who was not enrolled in school the previous year including attending a homeschool; a private school student in grades K4, K5, 1, 9; and a student who participated in the MPCP or RPCP the previous school year.
Total program enrollment can't exceed 7% of the local school districts enrollment.
WPCP Voucher Amounts
For the 2022–2023 school year, the amount of the voucher was $8,399 for grades K-8 and $9,045 for grades 9-12. The voucher amount increases by an amount equal to the increase in state public school funding each year.
---
Wisconsin Parental Choice Program FAQ
---
Wisconsin Parental Choice Program Growth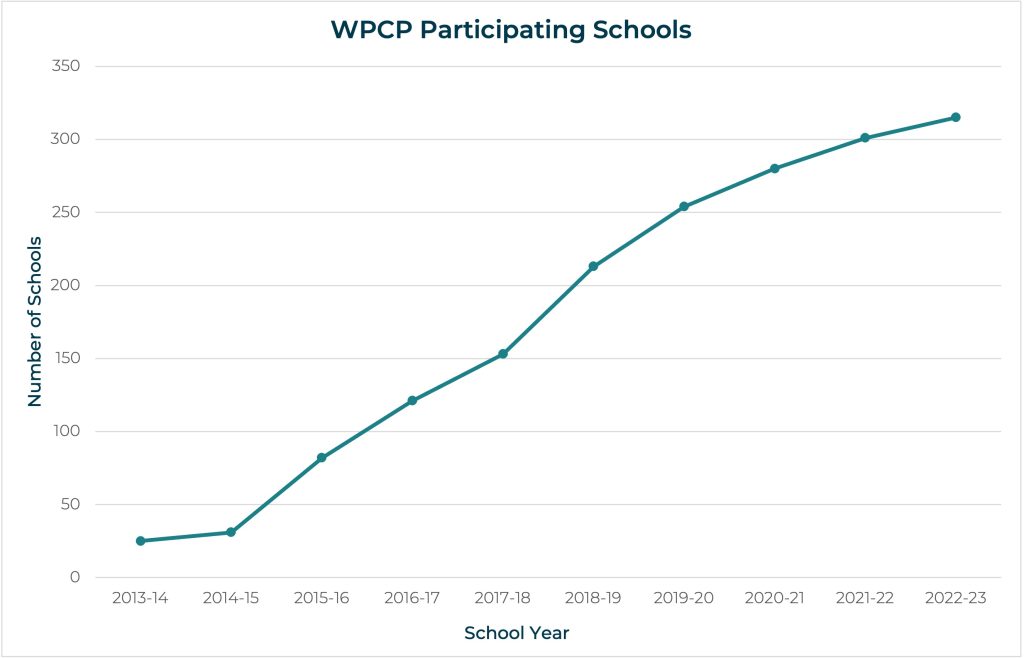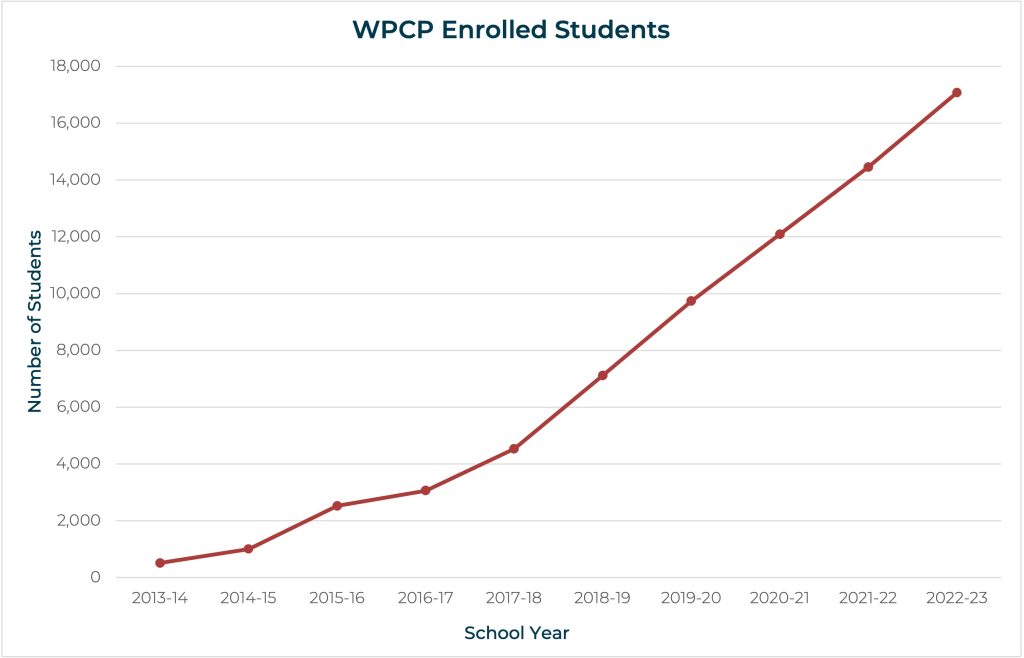 WPCP Timeline
2013
WPCP IS LAUNCHED
The first year enrollment cap was 500 students.
2014
YEAR 2
The enrollment cap increases to 1000 students with no more than 1% of the students of any school district enrolled at a time.
2015
YEARS 3 – 5
The total number of students enrollment cap is eliminated. From 2015– 2017, the WPCP enrollment cap for each district was 1% of the district's prior year total enrollment.
2016
VOUCHER INCREASES
Per-pupil increases for public schools and voucher schools are linked dollar for dollar.
2017
YEAR 6
Beginning this year, the enrollment cap for each district increases 1% per year. Once it reaches 10%, there will be no enrollment cap for individual districts in the statewide program.
2018
ACT TEST PERFORMANCE
WPCP students earned an average of 21.0 out of 36 points on the ACT Exam, compared to Wisconsin students as a whole who earned a score of 19.8 out of 36.
2022
17,079 PARTICIPATING STUDENTS