Turner At Concordia Lutheran
Ask 7-year-old Turner Ritacco to read a poem, and he'll quickly wrap his arms around his tiny frame, slink into his chair and firmly tilt his head toward the floor with a sulk and a frown. With a little coaxing, he might slowly look up, muster up some courage and give the poem a try.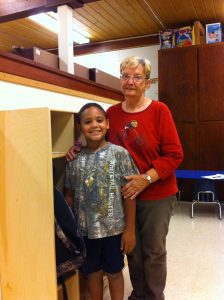 Ask him what he likes, and he will twist his lips into an adorable, crooked smile, and with the slightest little lisp shout, "Tractors!"
Well, basically, anything that goes fast, has movable parts and might be intriguing to take apart will capture this energetic second-grader's attention. In fact, his grandmother and guardian, Susan Ritacco, must be mindful when she has any repair people come to their home.
"I had a plumber come to fix the sink, and after he left, I couldn't find Turner. He was under the sink ready to take it apart again," she laughs. "He loves mechanical stuff. Somehow he has learned how to put things together and how they come apart. He is reconstructing toys all of the time. Many of them no longer have tires. I'm sure he will be in construction or an engineer."
Encouraging an inquisitive, young mind is one of the characteristics Susan says she hoped to find in an elementary school for Turner. As a youngster being raised by his grandmother, Turner needs an environment that will provide the small-class, hands-on structure he needs to foster his potential and nurture him to improve his academic skills, like reading.
Susan says she has found those ideals at Concordia Lutheran School in Sturtevant, where Turner is a second-grader in the Racine Parental Choice Program.
Her choice alone is fascinating. Susan worked for the Racine Unified School District for 28 years, 15 of them at Case High School, the rest at the Administration Office.
For her, the heated disputes that some people want to stir up between public and private schools is just plain silly. It's simply a matter of what fits a child best and having the choice to make the decision that's important, she says.
"I had three kids, and all of them went to public school," she offers. "It works for some kids, but not everybody."
At Case High School, she watched ninth-graders struggle and lose their way. "It seemed as though we would lose half of that ninth-grade class before Christmas," she remembers. "They were not ready for the openness and responsibilities that come with high school. If you didn't want to go to class, there were plenty of ways to hide."
"I always said when I was at Case that parents should spend a whole day there to see and hear what their kids experience. It is nothing like when they went to school," she says.
Parental involvement is another attribute that Susan hoped to find in the school she chose for Turner, and she found it at Concordia, where she volunteered as an aide for an entire year and was hired by the school to assist the first-grade teacher this year.
Both grandmother and grandson travel to school together each day.
"It's a smaller school. It is more along my discipline lines than the big public schools. Turner would have gone to Gifford Elementary, and that was just too big for him. I like this structure," she says.
Turner started in three-year-old preschool at Concordia, then four-year-old preschool. He began eligible for a voucher to attend through the school choice program when he aged into Kindergarten. The choice program made it possible.
The communication between the school and families is incredible, says Susan, who adds that parents are alerted to what happens in school right away, which reinforces the small-family atmosphere that seems to envelope the school.
"With a super-energetic boy like Turner, he needs someone to set the rules for him and work with me to enforce them," she says, but adds that the loving, compassionate way staff at Concordia works with students makes it the perfect fit for him.
Turner would not be able to attend Concordia without the School Choice program, which opens the option for his grandmother. To have the choice makes all of the difference to her.
"I've seen the schools, public and private, from both sides. All kids are different," she says, "but this is what is working for us."