The Riveras At Concordia Lutheran
Three little boys stand outside their new school on a sunny, fall day, and the photographer never has to urge a smile. Wide, and in some cases, toothless grins dominate their faces. This is a genuine happy.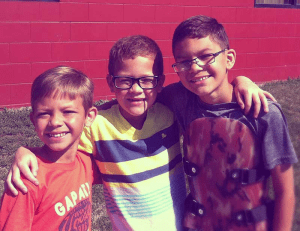 For their father, Pablo Rivera, nothing could be more assuring than to see that his boys are content. After losing their mother a few years ago, the small family has sought to continue their lives in the best way possible. For Pablo, that included getting them into a private, faith-based school. He had hopes for Concordia Lutheran School in Sturtevant, but the only way he could imagine having all three boys attend was with a tremendous amount of help. He got that through the Racine Parental Choice Program.
Heidi Frost is the fourth-grade teacher at Concordia and says that the oldest Rivera, Sebastian, seems to have settled in and gets along very well with all of his classmates. "They recognize that he is a super-nice student. He's very respectful of everyone, and his peers know that about him," she says. "He participates in everything, is willing to ask for help and ask questions, and he has absolutely beautiful handwriting."
Sebastian, 9, says the feeling is mutual. "I like my school very much," he says thoughtfully. "They care very much about my needs. They let me take my time with reading tests. They teach slowly, and make me come through with whatever I need to do."
For the youngster who somedays hopes to be an architect, this is the kind of school where he knows help will be available to assist him in conquering multiplication and division – his most difficult challenges at the moment.
As for friends, he has plenty. In fact, they were not only welcoming, but accommodating. Temporarily confined to a back brace, Sebastian says his friends eagerly elected him playground referee when they learned that he could not play sports during recess until he was fully healed.
A few doors away, Sebastian's younger brother, Dresden, is sitting with his third-grade class. When his teacher introduces today's visitor – a veteran who has returned from his post in Afghanistan as a chaplain – they quickly push back their chairs, place their folded hands in their laps and ogle the young soldier who tells them that "choosing to be a servant to others'' is what life is all about.
The talk captures Dresden's attention. Social Studies and learning about other places is one of his favorite subjects, and reading his "action Bible" is among his favorite pastimes. Here, he has an opportunity to learn, not just about history, but about God, and that's important, he says. When he's not in school, his dog, Sofie, gets a lot of Dresden's attention. That is pretty understandable, given that he has aspirations of becoming a zookeeper.
The youngest Rivera, Vincent, is the sports guy. At 7, he has a tough time deciding on a favorite athletic activity. He loves them all – football, baseball, soccer. Of course, gym is his favorite subject in school, but art runs a quick second.
The three have made themselves at home at Concordia. For their dad, it has been transforming.
"The school choice voucher program and Concordia have literally changed our lives in so many great ways," says Pablo, who works at the local hospital. "I'm sure, sometimes, there can be a stigma associated with families who are in the voucher program. But without it, we would never have had an opportunity to be a part of such an amazing school."