In Service and Commitment, GRACE's Doors Remain Open
When you're dedicated to service, sometimes you must take risks to serve your community best. Ahead of the start of their 2020-21 school year, The Green Bay Area Catholic Education (GRACE) System had to decide whether they would take just such a risk.
At the time, the Green Bay Area Public School District had decided to remain closed to in-person education for the beginning of the school year. So had public schools in Milwaukee and Madison, and in big cities nationwide. The coronavirus was too significant a risk to hold classes in-person, they reasoned.
GRACE could have done the same, but their 2,300 students needed change that virtual learning couldn't provide.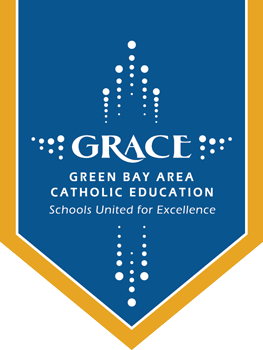 The GRACE Schools model is very personalized and collaborative. The system's preschool-9th grade schools commit themselves to meet their students' individual needs, but families are required to stay engaged with their child's education and with the school.
"We're keeping expectations high," says GRACE President Kimberly Desotell, "because we cannot educate children alone. In our philosophy, it is a family approach, and we must be in partnership with families in order to do a good job of really helping the children to grow and learn every single day."
Unfortunately, virtual learning during the pandemic made it difficult for all parties involved to meet those expectations.
GRACE did everything they could to keep serving their community after lockdowns were in place. Teachers went to families' homes to drop off homework and distribute laptops from the system's one-to-one laptop initiative; schools offered pick-up times for families to access books, materials, and even school lunches; and GRACE began holding their classes online.
GRACE also gathered a learning response team, staffed by principals from their nine schools and teaching faculty from nearby St. Norbert College. After looking into the students' academic performance during online learning, the team found that GRACE's personalized teaching model wasn't translating effectively into online classrooms.
As President Desotell explained, growth in areas like developmental reading skills and religious devotion are all hard to foster and learn through a computer. Without in-person, hands-on learning, students were suffering academic consequences. This was especially true for kids who were falling through the cracks because of their family's limited experience with technology. Many families also reported worrisome social and emotional ramifications they witnessed in their children because of distance learning.
These troubles weren't unique to GRACE's schools. Many of Wisconsin's other school districts were suffering with learning loss and spotty attendance in their students, yet many of them chose to remain closed for the first quarter of their 2020-21 school year. Plus, GRACE is the second largest private school system in the state. If they kept their doors closed, they would be joining many other large systems and districts who did the same.
GRACE knew staying closed that fall would hold their students back farther, though, and they did not want to sacrifice the needs of their community. So, even while their public school peers in Green Bay remained virtual, the GRACE Schools system took the risk to serve their students in-person starting in August of 2020, with the GRACE Virtual Academy as an option for anybody who wanted to keep learning from home. That brave choice paid off.
Some families have expressed relief that GRACE schools remained open. Parents and guardians regained the freedom to go to work and provide for their families while the students returned to in-person learning at school.
After re-opening, GRACE made major modifications to keep their students safe, like spacing desks, changing classroom occupancy limits, and editing their masking and social distancing policies. Even now, GRACE still updates families with a new board-approved COVID policy every 30 days, one that's tailored to each of the nine schools in the system.
GRACE also established a Nurse Line for their teachers, admins, and families. Provided in partnership with healthcare provider Prevea, anyone from the GRACE system can call or email the private line, in English or in Spanish, with questions about COVID, contact tracing, and CDC or state regulations. The person will get an answer from the line in their preferred language within 24 hours.
With these measures in place, GRACE has only briefly closed their doors again three times: once in October of 2020 to take pressure off of the local hospitals and twice as a precaution following their 2020 Christmas break and 2021 spring break.
The GRACE system has not needed to close for in-person learning at all in the 2021-22 school year. They discontinued use of their virtual option in the same school year.
President Desotell says re-opening has done nothing but good for the school system and the students. Since returning to in-person learning, GRACE has taken steps to structure and strengthen their curriculum for its post-COVID learners. They have also added Saturday workshops to serve parents and guardians who want to be more involved in their children's learning. This year, they're holding four such workshops to guide families on school technology use, mathematics at home, reading at home, and preparing middle-schoolers for transition to high school.
Families have responded well to GRACE's efforts. "We have had significant enrollment growth at our schools since we made the decision to remain open for face-to-face learning," Desotell is happy to report.
Last year, GRACE saw the largest enrollment increase in recent years, up 160 more students over the year prior.
Families enroll their children in GRACE's schools for many reasons. The top reported reasons for coming are the system's strong academics, their safe, orderly campuses, and their faith practices. More recently, though, parents have reported sending their kids to GRACE precisely because of their decision to remain open.
GRACE Schools took a considerable risk in 2020, one that other large school systems chose not to take. GRACE took their chances anyway because they knew what their community needed most. After re-opening, GRACE went the extra mile to improve their curriculum for students and families, all while thwarting the significant COVID outbreaks that other schools remained virtual to avoid.
GRACE proved it is possible to do it all and their families are surely grateful for the powerful services they continue to provide.
---
Over 27% of the PK-9 students GRACE serves are enrolled through the Wisconsin Parental Choice Program. Click here to read about how one of the GRACE schools, St. Thomas More Catholic School, overcame their unique challenges and reconnected with their community during the pandemic.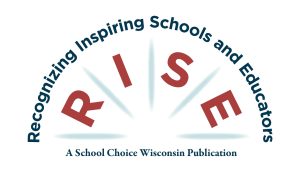 Do you know of an educator or a school that did outstanding work to educate students during the pandemic? Send their story to us for a chance to feature them in our next issue of the RISE Series, where we Recognize Inspiring Schools and Educators. Stories may be submitted to our writing team at [email protected] or over the phone at 414-319-9160. We may follow-up with a request for an interview.